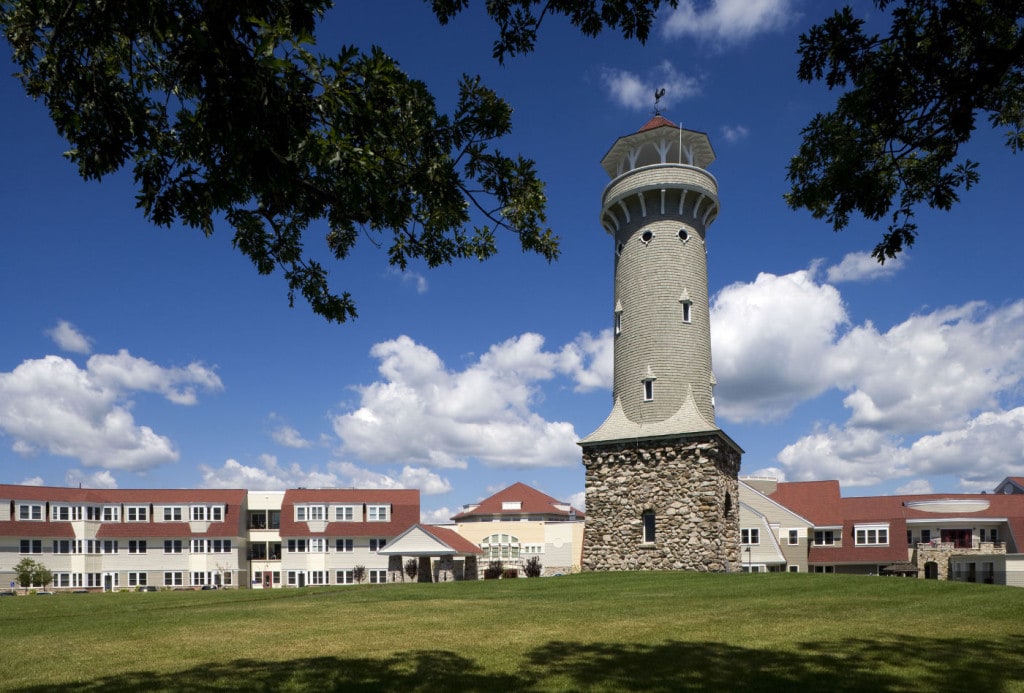 AT A GLANCE
Repositioning
450 Acres
• 205 Independent Apartments
• 14 Independent Cottages
• Performing Arts Center and Natatorium
• 69 Assisted Living Apartments
• 111 Long Term Care Beds
Published
Design For Aging Review 9
Gold
New England Housing Council
Performance Award
AGC Build New England
Residential Design
Boston Society of Architects
The Overlook, the Masonic Home, Inc. is located on a hill in central Massachusetts with views of five states.The site was developed more than 100 years ago as a destination hotel. Soon after, the hotel was bought by the Masonic Order as a retirement home for their elderly members. Over time the site grew to contain over 450 acres and a number of additions and buildings were constructed. In late 1990s, the Masonic Home decided to replace the Long Term Care facility and Rest Home and expand the scope of services to create a full CCRC.
EGA developed a Master Plan for the site comprised of a new skilled nursing facility and rest home, an independent living facility with congregate living and cottages and a Performing Arts Center / Natatorium.
The architectural style of the project is based on the original rustic stone and shingle-style of the original hotel and its outbuildings.Future phases will return the site to its nineteenth- century resort atmosphere with an 18-hole golf course, extensive walking and horseback riding trails, opportunities for bird watching, and a variety of other activities centered on the Overlook Continuing Care Retirement Community.